HTML Technicians, eCommerce Technicians, Graphics Designers, Copy Writers, Ghost Writers and Account Executives
About These Positions -- We are the ultimate virtual office. Everyone is an independent contractor and works off site. Must be flexible, dependable and a good communicator. Production positions are mostly part time, as needed. Sales can be full or part time. All rates are negotiable.
Production contractors receive work via a purchase order. Interested individuals should submit a brief resume and five examples of their work by mail to George C. Jobel, at the address below.
Independent Representatives work at their pleasure and receive a lucrative percentage of sales. There are no territories, and no chargebacks. And because you are selling a business product, you can typically work banker's hours.

Interested parties should contact George C. Jobel, by phone at (603) 369-1471.
HTML Technicians -- Responsible for web page assembly/creation. You should be versed in cross platform and multiple browser issues. Art experience helpful.
eCommerce Technicians -- HTML technicians with shopping cart technology experience.
Graphic Artists -- Must be familiar with file compression techniques, be creative, work well with others.
Copywriters -- Needed to write copy for web pages, client promotional articles and occasional collateral materials.
Ghost Writers -- Needed to write several series of articles to be used as columns in daily and weekly newspapers. Information and research will be supplied.
Account Executives -- Individuals to sell our products in their own area. No minimums, no schedule, generous commissions.
---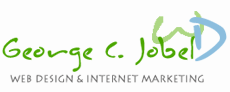 George C. Jobel
Internet Marketing Strategist
PO Box 2482,
Concord, New Hampshire 03302-2482
603.369.1471