Web site analysis, site marketing IQ analysis, online research, staff training, etc.

Web Page Analysis -- There are many factors that contribute to a successful web page, construction, ease of navigation, textual marketing cues, search engine registration & placement, points of contacts, code and tag construction, marketing posture, perceived credibility and several other factors. If your site hasn't 'taken off' we can help you make it fly!
Marketing Analysis -- How is your site positioned in the online marketplace? Have you found your niche? Are you priced competitively? Are you targeting the correct client? Are you positioned to target the best client? What are the best strategies for improving your site's visibility? What are the best uses of your limited budget? Sometimes a tweak can avoid a thud!
Online Research -- Would you like to be able to identify who enters your site, including name and email address? Would you like to know what's happening at your competitor's site? Perhaps you'd like to know how many sites out there discuss your product. Maybe you would like to avoid replicating research that others have done? Maybe you would like information about new medical procedures or case law? Research can become very valuable and we are your best research resource!
Reciprocal Link Development -- Would you like 100 or 200 sites linking directly to yours? There are VERY cost effective ways for that to happen!
Software Training -- Would you like your office's doctors, attorneys, architects or engineers to be able to effectively search the 'Net? Perhaps you would like your administrative assistant or business partner to be able to modify your web site or b etter optimize it. We can supply onsite training!
All the services above are provided at $75 per hour, plus travel time/expenses, with a 3 hour minimum charge.
---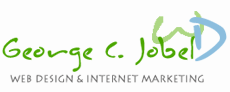 George C. Jobel
Internet Marketing Strategist
PO Box 2482,
Concord, New Hampshire 03302-2482
603.369.1471